East Germany is becoming increasingly polonized, reports Mateusz Madejski. In several Eastern German towns near the border, one cannot even find pizzerias, gas stations or shops since everyone conducts their business in Poland.
An example of such a polonized municipality is Mescherin in Brandenburg, a compact settlement located on the banks of the Oder river and on the site of a national park. 15 percent of the region's inhabitants are Polish.
Poles in Mescherin are holding an increasing amount of jobs in place of Germans who are leaving to the West of their country. The most popular dish in the town is the Polish bigos, many signs are bilingual and the municipality even has a Polish councilwoman. Every local institution in Brandenburg as a whole is hiring Poles, including the police and fire brigades.
The truth is, that either Poles will start to take over these regions, left by Germans emigrating to the Western regions, or they will simply die out.
Wirtualna Polska has created a map which clearly shows the municipalities in Germany where Poles comprise the largest minority group (colored on the map below):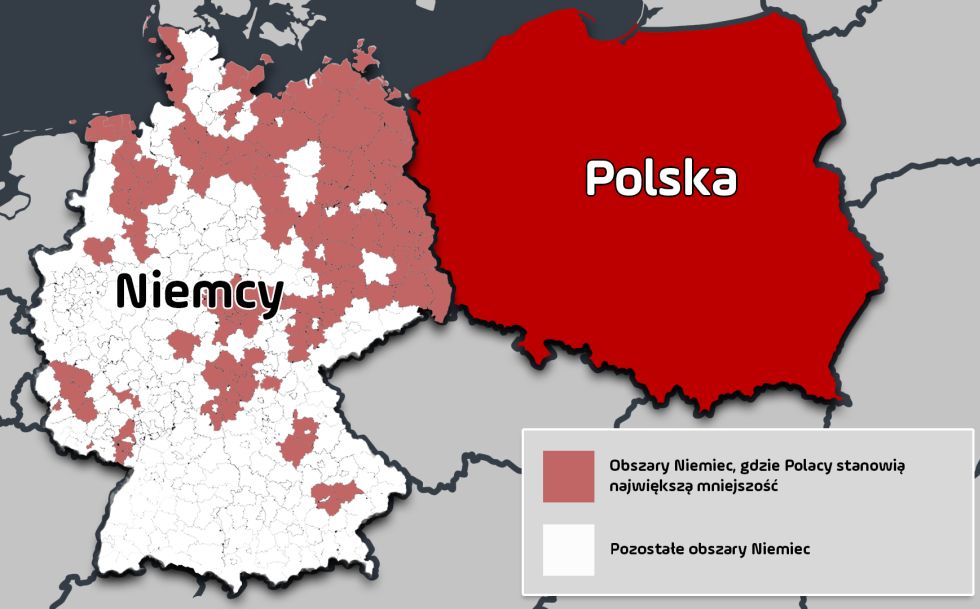 This phenomenon has appeared due to difficulties in unifying West and East Germany, despite injecting billions of Marks and later Euros into the post-communist region.
Eastern German towns are depopulating and according to recent research, the number of inhabitants has dropped back to levels from 1905. This is mainly due to young Germans emigrating to West Germany where they can earn up to EUR 700 more per month, though these differences might be even higher.
The average salary in Brandenburg is EUR 2,500, whereas the salary in the richest region Baden-Wurttemberg is EUR 3,500. In comparison, the average salary of a Pole from the West Pomeranian Voivodship, which neighbors with Germany, is PLN 3,900 (EUR 914).
This has led to many Poles not only travelling to Germany for work, but even relocating to small German towns near the border, which has led to two exoduses.
The first is the Germans moving from the East of their country to the West and the other, Poles moving to Germany.