A public political manifesto by former Solidarity leader Lech Wałęsa at George H.W. Bush's funeral. Wałęsa attended the funeral dressed in a "Constitution" shirt, provoking disgust from commentators.
A short video showing the legendary "Solidarity" leader has been making the rounds on Polish social media. In it, Wałęsa is dressed in a "Constitution" shirt and looked lost at the funeral. No one was paying attention to him.
https://twitter.com/PolskaPartia/status/1070383694119165954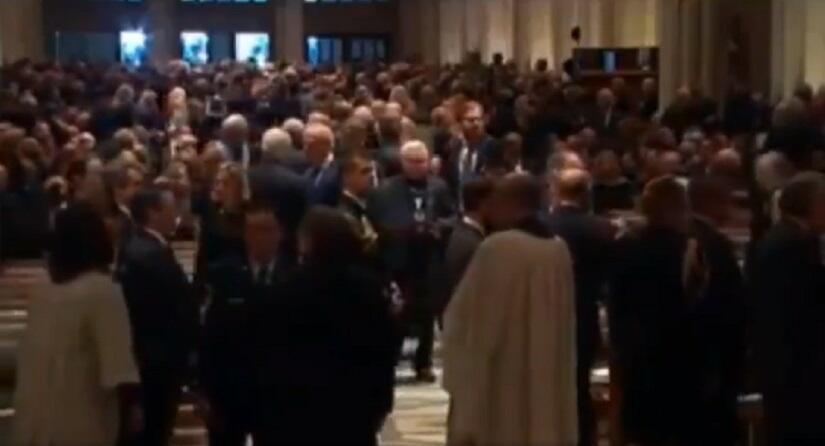 Wałęsa appeared in the same shirt, a symbol of Polish opposition, at the airport in Warsaw and on the flight to Washington D.C. His Twitter account recounted the journey as it was happening: "Waiting for the flight to Washington at the airport in Warsaw."
Flight with Duda
At his own request, Lech Wałęsa was invited to join President Andrzej Duda on his flight to George H. W. Bush's funeral.
Wałęsa was likely hoping to cause a stir dressing in the "Constitution" shirt. His twitter feed was followed by people who were waiting for an argument to explode. Nothing happened, and the flight proceeded without any negative interactions. President Duda's spokesman Błażej Spychalski emphasized that "taking former President Lech Wałęsa on board was an important gesture from President Duda."
Spychalski also commented that Wałęsa and Duda of course conversed during the flight, as the two men were sitting next to each other. "We are above the current, political conflicts in our country," he said.
Other twitter users were displeased with the fact that Wałęsa wore the provocative opposition t-shirt on his way to the funeral: "I'm so embarrassed by you!!! This is behaviour worthy of a kindergartener! I feel sorry when I think that me and my family used to support you!"