The first official visit of president Andrzej Duda to meet President Trump at the White House will take place on September 18th.
"The schedule foresees a face-to-face meeting between the two presidents, the delegation's plenary talks and a joint press conference," the president's Chief of the Cabinet Krzysztof Szczerski said. "Amongst the issues to be discussed by the presidents there will be security, geopolitics, alliance cooperation, military and economic contacts," he added.
Duda will be accompanied by his wife, Agata Kornhauser-Duda. The first ladies will have a separate schedule during the trip.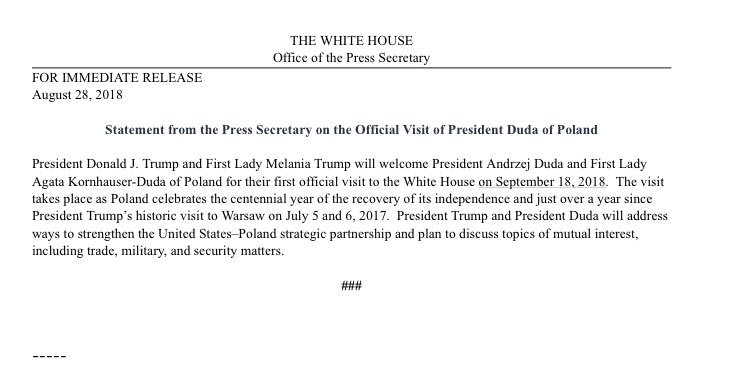 While in Washington, Duda will also visit the US Senate and in the evening the Polish president will hold a cocktail reception on the occasion of 100 years of Polish independence.
After Three Seas summit
"What is symbolic, is that the president will fly to Washington right after the Three Seas summit," underlines Szczerski. Therefore, Andrzej Duda will also be representing the entire region during his meeting with Donald Trump.
In the week following his visit to Washington, Duda will return to the United States to take part in the United Nations General Assembly in New York.