Illegal immigration into the European Union increased by 57 percent in 2021 on the previous year's total, as almost 200,000 breaches of Europe's external border were registered, according to preliminary figures published by Frontex, which serves as the European Union's border protection agency.
As the vast majority of European citizens were subjected to national lockdowns and draconian social restrictions, the European Union's own border force agency recorded the highest level of illegal immigration into Europe since 2017.
And in reality, given the nature of irregular border crossings and the difficulty in amassing accurate data, the figure is expected to be much higher. For example, in 2017, Frontex reported that 204,734 irregular border crossings were detected at the EU's external borders, however, annual data provided by Eurostat showed that more than three times that figure, 708,585 people applied for asylum across the bloc in the same year.
According to Frontex's analysis of migration routes for 2021, the vast majority of crossings occurred at two points: the Western Balkan route at the EU's eastern external border; and the Central Mediterranean route from northern Africa into Italy.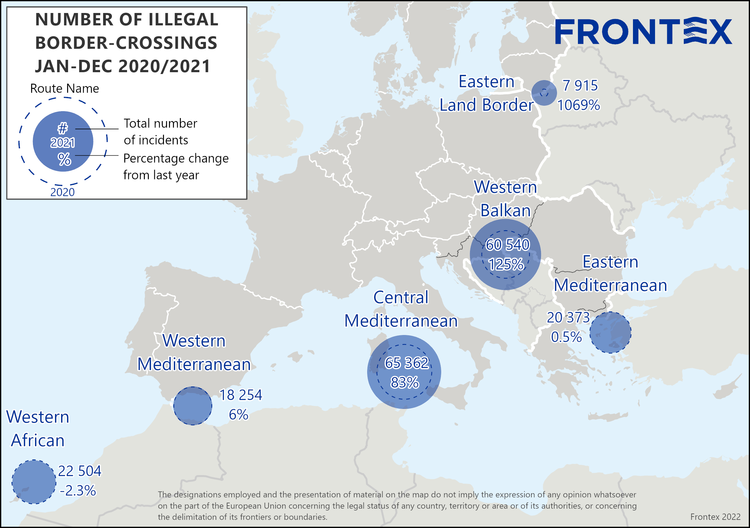 "Syrians remained the most frequently reported nationality of the people detected when crossing the border without permission, followed by Tunisians, Moroccans, Algerians and Afghans," Frontex reported.
The migratory route which saw the largest year-on-year increase was via the Eastern land border, with close to 8,000 irregular border crossings, an increase of 1,069 percent on 2020. The route became more widely used due to the situation in neighboring Belarus which resulted in three EU member states Poland, Lithuania and Latvia all declaring state of emergencies.
However, the route most frequently used by migrants remained the Central Mediterranean route, primarily from Tunisia to the Italian mainland or Italian islands such as Lampedusa, which remains one of the shortest and therefore most popular sea routes available.