The letter begins with a typo: it misspells the last name of Prime Minister Mateusz Morawiecki and addresses him with the wrong title, as well as misspelling the name of the interior minister Joachim Brudziński. Journalist Bartek Godusławski from Dziennik Gazeta Prawna posted the letter on twitter: "This how the Lady Ambassador's letter to the Prime Minister looks":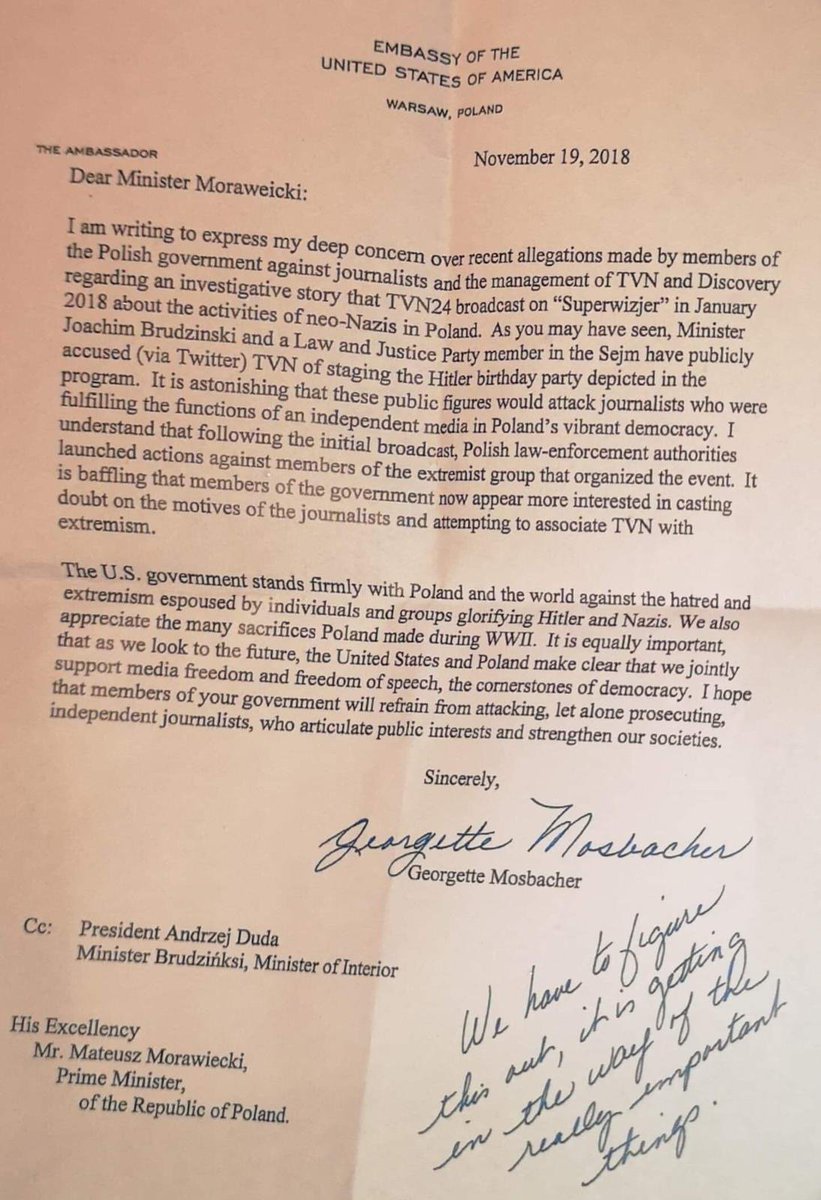 "I hope that members of your government will refrain from attacking, let alone prosecuting, independent journalists, who articulate public interests and strengthen our societies," wrote Georgette Mosbacher in the letter.
In a handwritten note she added: "We have to figure this out, it is getting in the way of the really important things."
She should avoid using arrogant statements towards the United States' partners
Former Polish head of diplomacy Witold Waszczykowski pointed out in an interview for wPolityce.pl, that Poland's foreign minister not a PM is meant for an ambassador's direct line of contact. The letter addressed to the PM was a break of protocol and convention.
Waszczykowski also expressed confusion as to whose evaluation it is in the letter: "Are these her [Mosbacher's] own thoughts, or maybe this is the evaluation of some American institution to whom TVN complained? Or maybe it is that of the American owners?"
No comments from US embassy and Department of State
The former foreign minister also said that although he understood that Georgette Mosbacher was taking care of her country's interests, the form as well as the tone of the letter was the issue. It is said that she should avoid using arrogant statements towards the United States' partners.
[block:views=related_articles_field-block]
Waszczykowski urged for the leadership to show the US ambassador how Polish politics works and invite cooperation and set up meetings with her.
On Tuesday evening, the US embassy in Warsaw released a statement stating that "the Embassy cannot comment on official diplomatic correspondence."
Heather Nauert, the spokeswomen of the Department of State, refused to comment on the letter itself. She only told journalists during the briefing: "Ambassador Mosbacher does a great job of representing the State Department and the United States government in Poland. She's of Polish descent, as a matter of fact. She also represents our ideals and values. Those values include freedom of the press".